Custom Lamacoid and Metal Engraving
We offer custom engraved nameplates, tags, labels and signage for both indoor and outdoor industrial applications per your specifications and requirements.
The engraving technology most suited to deliver the best quality at cost competitive pricing is used. For Lamacoid engravings, the 2-ply plastic material is appropriately selected for the desired finish and its impact, flexibility, and UV resistant characteristics, ensuring a durable, long lasting engraved product for your indoor and outdoor identification applications.
A wide range of lamacoid and metal engraving for……….
and we will promptly address your Custom Engraving needs
For a high-quality, cost effective solution, please advise of the following:
Labels and tags for your Industrial Panels and Equipment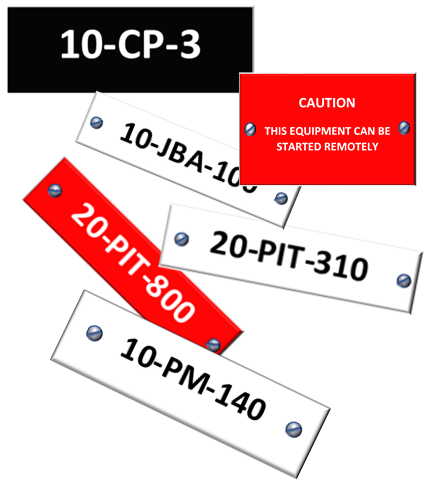 Custom Lamacoid Engraving:
Engraved Lamacoid acrylic labels offer a cost-effective and efficient means of permanent identification in accordance with ANSI UL 969 labeling and marking requirements. 
Available in 2 or 3-ply flexible phenolic plastic engraving stock, with shatter, scratch, stain, and UV resistant laminated material, suitable for both your indoor and outdoor applications. 
We offer a range of acrylic surface and contrast core (text/image) color combinations with a variety of text fonts and sizes. 

Tag your IdField and Homerun Cable Tagging
Lamacoid Cable Identification Labels:
Durable and flexible custom engraved plastic tags to fit a wide range of cable sizes and your nylon (tyrap) fastening requirements
Legend Nameplates for your Panel Operators
Lamacoid Legend Nameplate Engraving:
Legend nameplate engraving for your panel pushbuttons, selector switches and pilot lights in various styles, orientations, sizes, thickness and finish/contrast color combinations.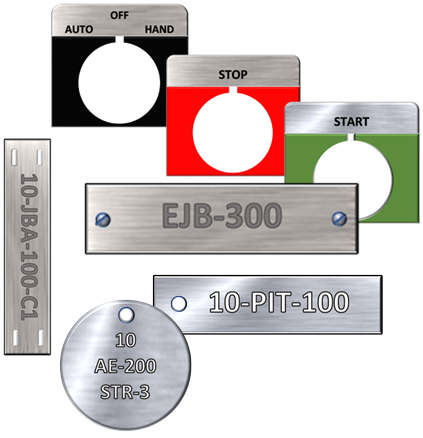 Metal Engraved Identification Labels:
We can supply your custom engraved industrial nameplates and tags in aluminum and stainless steel materials for the most durable long lasting identification labels for your indoor and outdoor equipment.
Supreme is an approved member of ISNETWORLD, ComplyWorks, and Avetta.